Myriam Crépeau better known as Vandal Vyxen is a rising star and THE most popular porn star from Quebec, Canada.  With her multicolor hair, numerous piercings and tattoos, her outrageous make-up, and her punk/metal wardrobe, Vandal Vyxen offers a breath of fresh air in the world of pornography oversatured by fake boobed tan blonde.  As you will see in the videos below, this unique beauty is also one hell of a performer as dirty as they get.  Vandal Vyxen is willing to do ANYTHING.  And, like if it wasn't enough, Vandal Vyxen is a Squirting Machine.
Myriam Crépeau mieu connu sous le nom de Vandal Vyxen est une étoile montante et c'est LA porn star du Québec.  Avec ses cheveux multicolores, ses nombreux piercings et tatouages, son maquillage outrageux, et son style punk/métal, Vandal Vyxen offre un nouveau visage à la porno.  Cette beauté atypique est également, comme vous le verrez dans les vidéos ci-dessous, une performeuse hors paire qui est prête à faire n'importe quoi.  Sans oublier qu'elle est une femme fontaine.  Elle a tout pour elle.
VANDAL VYXEN / SHANA RYDER / ZOPHIA MYAW

Aliases: Vandal Vyxen, Vandal Vyxen Of FreakyPunkAss, Vandal Vixen, Vandyl, Shana Ryder, Shanna Rider, Shame Ryder, Zophia Myaw, Zophia, Zophya, Zophya Myaw
Real Name: Myriam Crépeau
Birthdate: September 20, 1984
Birthplace: Montreal, Quebec, Canada
Residence: Montreal, Quebec, Canada
Height: 5'10" (178 cm)
Weight: 135 lbs (61 kg)
Measurements: 34C-28-34
Type of Boobs: Natural
Shoe Size: 9
Eyes Color: Brown
Hair Color: Brown natural but dyed black, magenta then multicolor
Ethnicity: Caucasian
Nationality: Canadian
Tattoos: Small of back on the right; Below right ear; lower back; panther on right side of neck; (2009) Entirety of right arm
Piercings: Lower lip right; right nostril
Years Active as a Porn Star: Since 2005
Yearly Salary: $100 000
Number of Adult Movies: 32
Willingnesses & Specialties: SQUIRT, BlowJob, Anal, Facial, Swallow, Vaginal, CumSwap, Lesbian, Bald Pussy, Piss, Pee Bukkake, Golden Shower, Piss Drinking…  Described as a very open-minded lady who will do just about everything.
Twitter: http://twitter.com/Vandal_Vyxen
Facebook: http://www.facebook.com/VandalVyxenOfficial
What Vandal Vyxen said:
Finally here it is! My own fucking website! This space is dedicated to Anarchy,Hardcore Sex and all my fans! Cameras turn me on and I'm an extremist in so many ways! Its like the beast chassing his pray, basicaly I am a sex hunter! I live on the edge and sex is my drug!  I love Squirting,  I love squirting on my partners and flood the place. Ultimately I would love to squirt all over you, all over the planet! Just can't stop squirting!!! LOL! I just can't stop thinking about hard cocks and wet pussies! Over the years I have come to master the art of pleasure and there is nothing that would stop me from discovering new ways to inflict pleasure, because my  goal is to vandalyze you! I am always going further to please my fans there is nothing that i wouldn't try to make them happy! With VandalVyxen.XXX I feel that all my deviant fantasies are coming to life! But don't worry! For those who prefer sensual yet dirrrrrty sex, you'll find everything you're looking for! Wishing you hard Cocks and dripping wet pussies!!! FuCk N Roll!!
Vandal! XXX
VANDAL VYXEN SQUIRTING MACHINE 
Vandal Vyxen Outdoor Party Blowjob (6:24)

C'est le début du vidéo qui me fait bander à l'os.  Vandal Vyxen est`dehors au deuxième étage couché sur le garde-fou et squirt d'immense jets sur le sol un étage plus bas.

 

BukkakePee – Zophia – 29 min
Zophia AKA Shanna Ryder compilation 1 – 28 min
Zophia AKA Shanna Ryder compilation 2 – 22 min
Zophia compilation – 18 min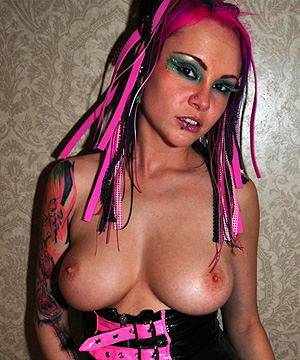 Zophia Myaw piss cum Compilation (18:19)

Zophia (Shana Ryder) Compilation Video – 10:37

Bukkake Pee                                         French Pee
Vandal Vyxen is a Natural Born Squirt Machine
– Vandal Vyxen en spectacle avec Gab Roy –